Super Snoopys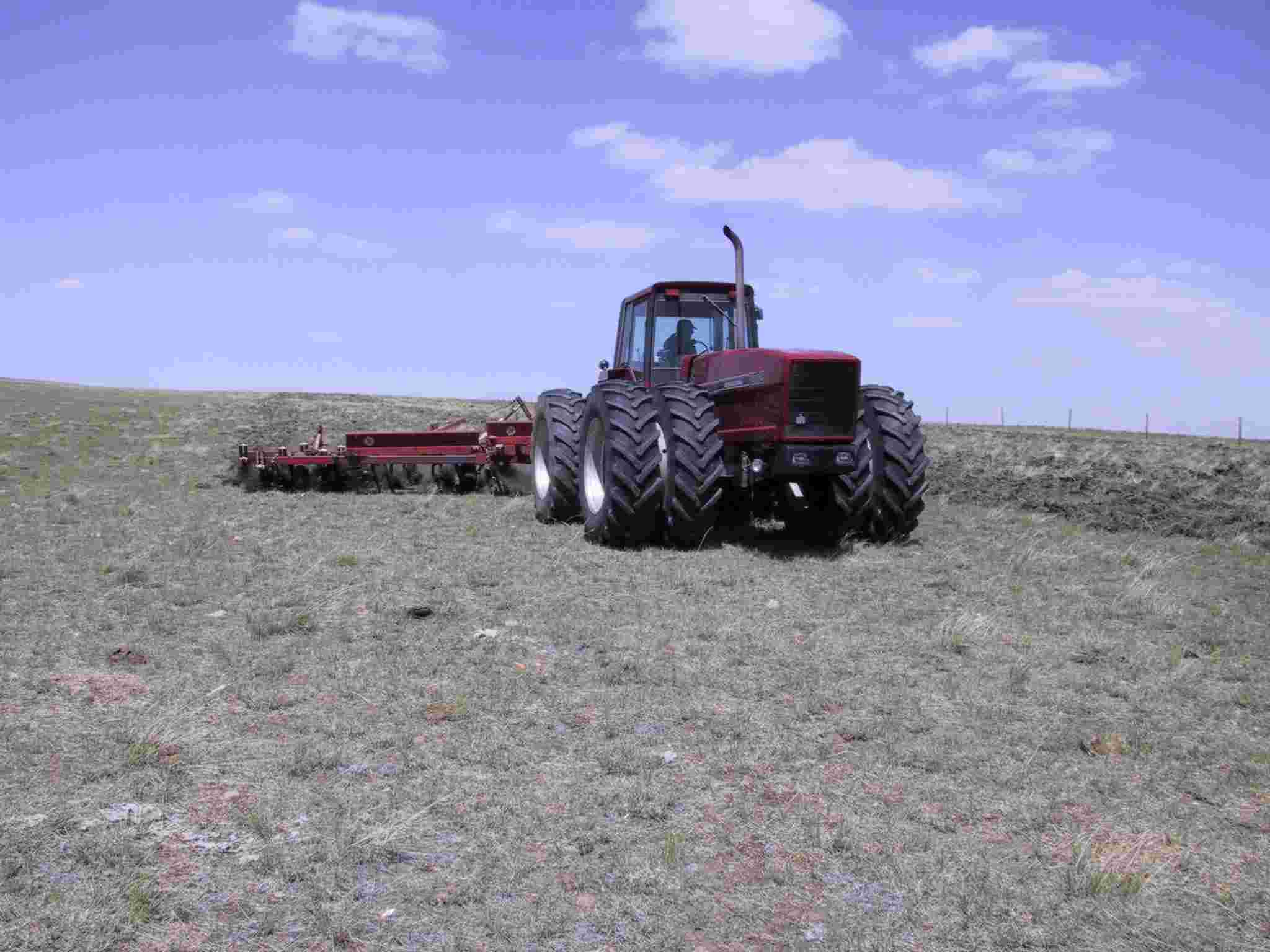 The last tractor range International Harvester built which established itself as a unique machine. These US monsters had a limited production run, as Case pulled the plug on the beast during the companies merge.
IH Super 70 Series
Originally, International Harvester designed an all new tractor, which was dubbed the 2+2. The new 1978 range consisted of the 130hp 3388 and 150hp 3588. Later on in 1979 the 170hp 3788 was introduced. The radically designed styling gave it the name "Anteater" due to the extended bonnet unlike no other. As the engine was mounted before the drive to the axle it meant no engine redesign was needed from previous tractors. The tractors were specifically aimed at the row crop market, but could be used for any job which they often were. The advantage of being articulated is that the driver sits behind the articulation giving a very good view of the field infront from the seat.
Due to the great demand for these machines, in 1982 International Harvester decided to redesign the range to form the 60 series 2+2. Based on the orginal design, various improvements and exterior changes took place. These included a new red IH Command cab with choices of red or wood velour finish. Again models were similar in horsepower, 130hp 6388, 150hp 6588 and 170hp 6788.
By now the demand for higher horsepower had risen so in 1985, International Harvester began to build their most advanced high horse power tractors yet. Little did they know at the time that the tractors that were made would not exceed 40 units.
The previous year, on 26th november 1984, the International Harvester Company was bought by Tenneco Inc. who already owned J.I.Case. But fate was upon this range of tractors and few were built.
7288 # 6 belonging to David Saville

The original 70 series range consisted of the 150hp 7088, 210hp 7288, 235hp 7488 and 260hp 7688. In the January of 1985, the 7288 and 7488 when into production., hand built at the Farmall Works in the US.

Originally the 7288 was sold at $83,000 (£57,500) and the 7488 at $90,000 (£62,500).

But due to few being sold, they were offered at half price without a warranty and no guarantee of parts availability, which made them a quite attractive buy in some ways.

The 7088 and 7688 were not put into production as they didn't make it past the test phase.
1984 in the US, the IH company had 33 tractor models in total, compared to 20 that Case had. This meant as a combination of both the companies, models would have to be dropped from the production line. Two years previously, Case had introduced their 94 series which meant they were younger models, thus the 4 year older IH 50 and 60 series 2+2 were discarded due to age.
Case had their main sights set on the launch of the new Magnum and felt that the 70 series would complicate matters as relatively few had been made.
| | |
| --- | --- |
| | So in total 19 7288's and 16 7488's were built and sold. These included two prototype models. Due to the few made, no models were exported out of the US or Canada, so to see one is very rare. To import one now, it would be difficult, but recently 7288 #18, with 8000hrs+ , new tyres and complete respray is available for sale priced at $56,000 or a 7488 priced at $45,454. Currently the tractors are now making twice the price of what they were when they were sold new. So they made a good investment back in 1985. The machines are highly thought after in the US and a low houred machine is difficult to find. All 35 tractors and prototypes are still at work on farms across the US and Canada, which shows how reliable the machines the IH company were made! |
Both the 7288 and 7488 have the IH DT466C 7.6L intercooled and turbocharged engine which produces high torque, to get this power to the ground nearly every tractor was fitted with duals front and back. The engine itself is mounted over and towards the front axle, which meant weight distribution was excellent. 51% at front and 49% at the back. The front axle was also strong enough to enable some farmers to use two 300 gallon fertiliser tanks on the front, which would increase versatility. Also the advantage to the 2+2 was the fact they were articulated in the centre, which meant greater maneuverability and tighter turning circles.
The tractors took the 50 series gearbox, known as the TRI-SIX transmission which enabled a total of 18 Forward gears and 6 reverse. 3 ranges in forward, with 6 gears in each range. The shift pattern was in a Z formation with powershifting between 1+2, 3+4 and 5+6 which meant the clutch had to be used twice to get from 1-6 gears in a range.
Top speed was 19 mph and 6.35 mph in reverse with the standard 20.8 R38 tyres.
| | |
| --- | --- |
| IH 7288 # 18 | Previously owned by Eason Lilley |
The backend was also taken from the smaller 50 series range, which has been known to give problems. These tractors were best suited to drawbar work, as lift arms were very weak and connecting pins very thin. Lifting capacities were less than 5 ton which meant only light implements could be used. (3786 kg on 7288 and 4490kg on 7488.)
Due to lack of knowledge on these tractors, it is difficult to find dealers who were experienced in this type of workhorse. Relatively few problems have arrisen in the 16 years which have passed since manufacture. Known problems have been sourced to the gearbox and electrics which have been fixed using previous solutions on the 50 series.
| | |
| --- | --- |
| 2+2 Articulation | Easy to Service and maintain |
Here we take a look at David Saville's 3200 hr 7288. It is model # 6 and is an extremely tidy machine. Its main job is pulling 32ft seeder. Which it tackles with ease compared to a IH 1568 which struggled at times.
| | |
| --- | --- |
| Excellent Operator Comfort | A very impressive machine |
Most 70 series have chrome plated exhaust pipe but his is painted black. The owners manual and literature also show grab handles on the front of the hood to pull it open to service the engine but the holes for the handles are blanked off with no handles.
Specs
| | | |
| --- | --- | --- |
| Model | 7288 | 7488 |
| Engine | 210hp | 235hp |
| PTO | 175hp | 200hp |
| Make | - IH DTI 466C - | - IH DTI 466C - |
| Speed, rated | 2400RPM | 2400RPM |
| Speed range | 880 - 2640 RPM | 880 - 2640 RPM |
| Piston Displacement | 7.6 l | 7.6 l |
| Fuel tank (standard) | 337 l | 602 l |
| Width | 2845mm | 2894mm |
| Length | 6073mm | 6073mm |
| Weight | 8958kg | 9150kg |
| | |
| --- | --- |
| | Case went on to design a new articulated tractor called the MUA (Magnum Articulated) in the early 1990s which was based on a 7140 which pivoted in the middle. The tractor never went into production but it is said that there are one or two prototypes around. |
There have also been words that there might be a MX Magnum articulated which would compete with the smaller Claas Challengers and JD8010T series.
Previous to the 7288 and 7488, a larger breed of tractor was also designed.
These new 4wd Steigers were the 330hp 7788, 280hp 7588, and 230hp 7388. Due to financial trouble this time led to the sale of IH's 30% share in the Steiger Corporation to Deutz-Fahr KHG of Germany. So in 1982 the new Super 70 articulated 4wds were introduced. Only 2 of each model were produced, one with and without 3 point linkage so to find one is very difficult!
For more information on 70 series, please see www.toytractorshow.com
Acknowledgements
David Saville, Wilson Gatewood, Eason Lilley, Ben Nelson, Jason Hasert.
Copyright Howard Sherren 2001
Since 1st December 2001
PLEASE NOTE : PHOTOS ARE VERY BIG IN SIZE.
IF THEY DO NOT APPEAR PLEASE RELOAD THE PAGE. THANKYOU
Return to